The Google Pixel 4 is coming out this month! This will be one of the best smartphones to get in 2019, and it might have the best camera in a smartphone for 2019, alongside some very unique features. Personally I'm very excited for the Pixel 4 and here's everything you need to know about the soon to be device from Google.
This article contains 8 sections: Design, Display, Camera, Performance, Special Features, Battery, Release Data & Price, so you'll definitely need some popcorn and drinks for this one!
DESIGN
Ok, so Pixel phones are mostly known for 3 things; the amazing camera, the pure stock android experience with no bloatware and day one updates, and the not so pretty design.
The Pixel 1 looked like an iPhone with no home button, but it did have on screen buttons which made the bezels horrendously thick. The Pixel 2 which was released in 2017 already had an outdated design, when compared to the competition, such as the Galaxy S8 or the iPhone X. The Pixel 3 from 2018 had the famous notch which was even bigger and more noticeable than the one on the iPhone X, while lacking any 3D Depth Sensing technology or Face Unlock like the iPhones had.
And now the Pixel 4 will have another questionable design. Google has tweeted about this and even posted a few teasers. There are so many leaks for this phone that I think its the most leaked phone ever!
First off, the Pixel 4 no longer has that huge notch. Instead we have a fairly noticeable forehead that resembles the one that we had on the Pixel 2XL, back in 2017. But this year Google is actually packing some serious tech inside that forehead which I'll cover soon, so it's not just there without any purpose. The side bezels are fairly thin, they do look to be about the same thickness as on the iPhone 11 Pro and Pro Max, and finally the bottom chin does appear to be thicker than on most phones today, but this one might also have its own purpose.
Moving on to the back we no longer have that iconic dual tone look that Pixel phones were known for, instead we have a single colour glass panel, which is again said to have the same frosted material that the Pixel 3 had and that the iPhone 11 Pro's now have.
The leaked colours at least, are black, orange and white. Google even had a massive Time Square poster, teasing the Pixel 4 which featured the orange model, so orange is definitely confirmed at this point. Evan Blass (@evleaks) also confirmed this colours, with their names apparently being "Just Black", "Clearly White" and "Oh So Orange"!
Finally, and probably the most noticeable thing on the back, is that camera module which looks so different to how it looked on the previous Pixels. It looks very similar to the iPhone 11 Pro's module the only differences is that it's black on the inside rather than matching the colour of the back of the phone. In a way it does look very similar to the camera module on the iPhone 11 Pro mock-ups that we had. It's not a triple lens camera module unfortunately it's just a dual one but I'll be covering that more in the camera section of this article.
Also, the fingerprint reader is now gone and it has now been replaced by something even better. This means that the back has quite a clean look and I overall I do think that Google's moving into the right direction when it comes to the design. It's still not as sleek as the S10 is, or the OnePlus 7 & 7T Pro but it will come with some very unique features which I'll cover later on.
DISPLAY
Moving on to the display, the regular Pixel 4 will come with a 5.7" FullHD+ display, at 2160x1080 resolution and 424 PPI, whereas the Pixel 4 XL will come with a 6.3" QuadHD+ panel, so 3040x1440 resolution at 534PPI.
These will both be OLED displays, with Gorilla Glass 6, HDR support, 100% DCI-P3 coverage so they will be very good panels but they will also feature something quite special, a 90Hz refresh rate display! A high refresh rate display such as this, is something that we already have on phones such as the OnePlus 7 Pro, the 7T's, the Asus ROG gaming phones, and the Razer phones. What this means is that all the animations would be 50% more fluid than on a regular phone which has a 60Hz refresh rate panel. Your laptop, your computer, your monitor, most of them also have 60Hz. So the Pixel 4 will be more fluid than those.
CAMERA
Now the Pixels are known for having amazing cameras but the thing is the camera hardware itself was never anything ground-breaking. Instead, Google's machine learning has been by far the best in the industry and they've been able to deliver some amazing results.
Where all the other manufactures have had dual, triple, even quad camera modules, Google has only had one module. In 2018 with the Pixel 3, we did get a dual front facing camera module, which was one of the first in any smartphone. We had a wide-angle lens for group selfies which was actually a very useful thing to have, but literally nothing extra on the back.
So this year we are getting a dual camera module on the back, which means that Google would still be a year behind the competition. Smartphones in 2017 and 2018 got a second telephoto or a zoom camera module, then a wide angle in 2019. Unfortunately, according to all the leaks that we've seen the second module on the Pixel 4 will actually be a zoom module rather than a wide angle module, which is pretty disappointing. You can always zoom in digitally but you cannot take a wide angle shot, without a wide angle lens.
What's even more disappointing is that Google already has a very good digital zoom. Google calls it SuperRes zoom, and while it's nowhere near the quality of an actual zoom module, it's very very close. So whilst all the leaks seem to be pointing to a zoom module, I'm still holding out for it to be a wide angle.
Now, speaking of the modules, it seems like we won't be getting a dual camera module on the front anymore. From the official images that Google posted there is only one camera module there, I'll talk about all the other sensors once we get to the special features section. However, this is expected to be a wide angle lens, or ultrawide as everyone's calling it now, which means that Google will probably take all photos zoomed in digitally at a lower resolution and them zoom out for that wider field of view, when you need to. A similar technique to what Apple is now doing with the iPhone 11 Pro's.
In terms of the camera specs the selfie camera is reported to be an 8MP sensor, f/2.0 aperture with 1080p video recording at 30fps. This is quite a big downgrade from the 4K60 that the iPhone 11 Pro for example can do. The back camera is reported to be a 12.2MP sensor with f.1.6 aperture. Same 1 / 2.55" sensor like we had on the Pixel 3 but with that f/1.6 aperture from f/1.8, which means we will be getting more light to the sensor, which in turn means better low light photography.
Video recording with the back facing camera will finally be bumped to 4K60, as the Pixel 3 could only do 4K30 and we've had 4K since on phones since 2017 with the iPhone 8.
In addition this camera will actually have two brand new features. The first one being called the 'Pixel Neural Core'. This is essentially the next gen version of the Pixel Visual Core which was the imaging chip found in the Pixel 3. This was also the chip responsible for processing the data required for the Night Sight photography. Speaking of Night Sight probably the most impressive camera features for me at least, we are getting a brand new Astral Photography mode which seems to be an even more improved version of Night Sight.
We do now have full leaked images from the Pixel 4 thanks to 9to5Google, which you can check out below.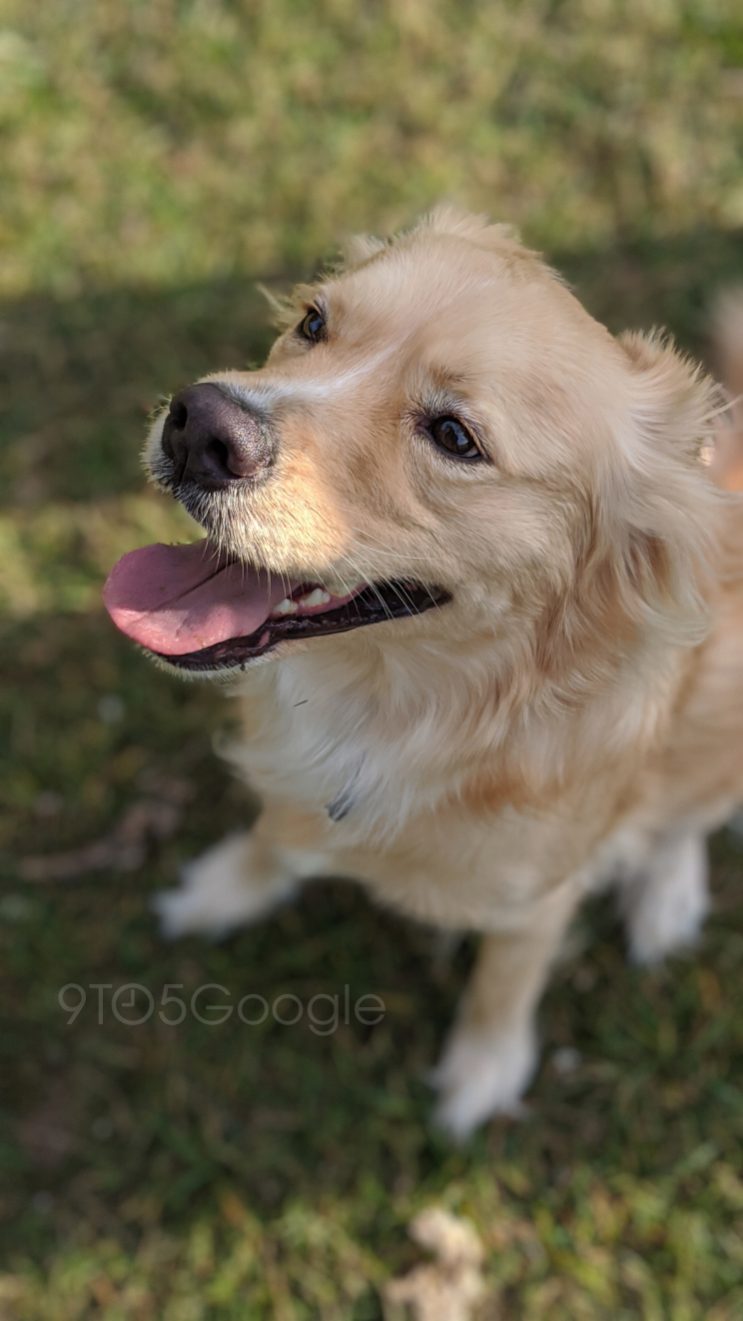 They're definitely coming from a Pixel, I can tell that by looking at the portrait mode shot in the first image, where the subjects are clearly separated from the background, so they look as if they were added in photoshop.
That portrait mode of the dog looks incredible (Image 2). That's some very good background separation right there, were the image becomes blurrier the further away you get from the lens, and that 2nd camera module is definitely helping make that portrait mode look realistic.
There's also a Night Sight shot (Image 3) that look very good and has that signature Pixel look, where the colours are quite vibrant and cool compared to the warmer tint that we get with Samsung phones and iPhones.
Image 4 is a sample of the Astral photography mode which just look mind-blowing! I can't believe that these were taken on a phone.
And then we a leaked Macro shot (Image 4) which just looks stunning, look at that detail!
Then we also have samples of food (Image 5) which seems to be very sharp and very colour accurate.
PERFORMANCE
Now, when it comes to the Performance, Pixel phones have never been that impressive. I mean sure, they were smooth and fluid and got day one updates but raw performance wise, they were quite weak when compared to the competition. This is because Pixel phones get released in October and they are one of the last smartphones to be released in the year. Whereas Qualcomm announces their new processors in December, so Pixel phones only get two months until they are already outdated.
In terms of the CPU, the Pixel 4 will come with the Snapdragon 855+. This is actually a fairly new CPU, being launched back in August, however it is just an overclocked 855 and not anything like the 865 will be, which will be announced around December. Still, the 855+ is a very good processor and a pretty big bump from the 845 that the Pixel 3 had.
Aside from the CPU, Pixel phones were also lacking RAM. The Pixel 3's only come with 4GB of RAM which for an iPhone that's quite normal but for an Android phone, 4GB of RAM is usually what you now find on low end handsets. Google stated that they don't need more RAM since they optimise their Pixels very well which unfortunately hasn't been the case. They were lots of complaints with the RAM management on the Pixel 2 & 3, which Google could easily fix by just adding more RAM in the Pixel 4. And they will, it's just that the leaks suggest a bump to 6GB of RAM from 4, which isn't that much. Today we have Android smartphones that come with 12GB and many more than come with 8 as standard. So even 6GB would be slightly outdated.
SPECIAL FEATURES
Ok, now aside from the camera upgrades, and the performance improvements, what are the features that make the Pixel 4 unique? Well, this is where we get the biggest improvements!
First off, we get the brand new Soli chip. So this is essentially a miniaturised radar that can detect and measure movement much better than a camera can. In fact, Google had a special team just working on this Soli chip. What this chip allows you to do is control your Pixel 4 using Air Gestures. Now this isn't anything new. We've had this with the Galaxy S4 and some other smartphones as well, and while you will be able to just wave at your Pixel to stop an alarm or skip to the next song, I still find this to be a gimmick.
But the good news is that It will work in conjunction with the other sensors in that forehead, to enable the second big new special feature, Face Unlock. Just like we have on the iPhone X and newer, the Pixel 4 will have a full 3D Depth sensing camera. At the moment, no one apart from Apple, Huawei and now Google, are using this tech, mostly because it's quite expensive. But, Google Face Unlock might be even better than Apple's, thanks to that Soli Radar chip. Reportedly, the Pixel 4 lights up the display as soon as it sees your face, and unlocks the phone. This is will make it so much faster than Apple's approach, where you have to lift the phone or tap the display, for the display to even light up. Also, if you take a look at the entire list of sensors that Google has inside that forehead, they're actually using 2 Face unlock IR cameras, rather than just 1 like Apple uses. This could mean that Google will be using those for even better 3D depth mapping or even faster and more secure unlock.
The 3rd new feature will be UFS 3.0 storage. So just like the OnePlus 7 Pro and the Samsung Galaxy Note 10, the Pixel 4 will have the fastest storage on the market, with Read speeds of just over 1GB/s, which is really impressive to have on a smartphone! This will go really well with that 90Hz refresh rate panel.
The 4th, and final, new feature is 8x zoom with the back facing camera. We've seen some hands-on videos with the final retain unit of the Pixel 4. Unfortunately it seems like it will have a telephoto module rather than an ultra wide angle module, like I am hoping. And that 8X zoom would be digital instead of optical but hey, at least it's there.
BATTERY
In terms of the battery, this is reported to be 2800mAh for the Pixel 4 and 3700mAh for the Pixel 4 XL.
Interesting enough, this is actually a downgrade on the Pixel 4, from the 2915mAh that the Pixel 3 had, but it is however an upgrade on the Pixel 4XL from the 3430mAh that we had on the Pixel 3XL.
No updates on the fast charging as to whether it is going to be improved in any way.
RELEASE DATE
So the actual Pixel 4 event is happening on October the 15th, which is just next week! This will be when Google will unveil the Pixel 4, the new Pixel Buds and possibly some brand new Google Home's as well.
In terms of when the Pixel 4 would actually be released, this should also be on the 15th. Usually it's about a week or two after the unveil but considering the amount of leaks that we've had, including people making videos with the actual retail unit of the Pixel, months before release, seems like Google already has the Pixel 4's ready to ship.
PRICE
Price-wise we've only had one leak from a website called Elara, which was discovered by 9to5Google and according to this leak the prices for the Pixel 4's would be 820 euros (£730) and 1126 euros for the XL (£1,000). Now although this is quite the price increase from the Pixel 3's, I wouldn't be surprised if that's the case. The Soli radar chip and Face Unlock are indeed some very expensive components which will increase the manufacturing cost of the Pixel 4. But at the same time, Google didn't sell a lot of Pixel 3's so they really shouldn't be bumping up the price.
Also we've had a leaked listing of what we get inside the box, posted by 9to5Google, and it seems that we get a USB c to USB C charging cable, the power adapter, which is actually the same 18W charger that we got with the Pixel 3, the sim eject tool and the quick start guide. So no headphones again, which to me is another reason why Google should drop the price, since all the other smartphones at this price point do include headphones and more accessories, especially when it comes to Samsung.
CONCLUSION
Ok, so in the end, what do I think about the Pixel 4? Well, it's not out just yet so I'll reserve my final thoughts until then but based on all the leaks that we've seen, it's going to be a very strong phone. Basically a OnePlus 7T Pro, with a much worse design but with Face Unlock, Air Gestures, a much better camera and even more stock OS with literally day 1 updates.
It won't be the prettiest but it might just be the best android phone of 2019.