Every few years there's this one product that comes out that changes my perspective on tech entirely. You see tech today, mostly smartphones, are quite boring. They all look almost the same, they do the same things, and after using so many smartphones over the years, it's become quite rare for me to get excited and truly enjoy using a new smartphone, like I used to when I got my first iPhone the 3G, or my Galaxy S4 or my 2013 Retina MacBook Pro. Those were devices that I've enjoyed using so much.
But nowadays it's very hard for me to get excited and hyped about new smartphones, since nothing really changes. However the Note 10+ is a bit of a different story. This has been for me, by far the most enjoyable smartphone I've used in years and the second most enjoyable piece of tech of 2019 for me, right after the Oculus Quest.
So, get some popcorn and drinks ready and here's my full in-depth review of the Galaxy Note 10+, after two months of use, as my daily driver.
DESIGN
Ok, so starting with the design, the Note 10+ is by far my favourite looking phone ever! I've enjoyed using the S10+ a lot, and even that was my daily driver for around 2-3 months, until the OnePlus 7 Pro came out but the Note 10 for me at least, looks so much better.
It's got a more squared off design when compared to the S10+, even thinner bezels, and a smaller camera cutout. It just looks about a year ahead of the S10+ in terms of the looks, even though it only came out five months after.
Then if you compare it side by side to the iPhone 11 Pro Max, the Note looks about two years ahead in terms of the design! There's no notch, much thinner bezels on the sides and the top, and the bottom ones are almost identical as well.
I would say that the only phone on the market right now that might look better than the Note, at least for me, is the OnePlus 7 Pro and the OnePlus 7T Pro. These phones have no camera cutout at all, but they do have slightly thicker bezels all around the phone.
So design wise, I'm very much into this phone. It is a bit uncomfortable to hold and use, I can definitely say that. You see, because of the squared off shape the corners of the phone will feel a bit sharp in your palm, when compared to the corners of the S10+ for example, which are more rounded.
Add that massive 6.8" display to this and you can probably tell that the Note 10+ is closer to a small tablet in size. It's definitely the biggest phone that I have ever used and I actually love it! Clearly not a one-handed smartphone but for viewing content and productivity, this is the best one there is.
DISPLAY
Speaking of viewing content, let's talk about the display.
The Note 10+ comes with a gigantic 6.8" display, which is also Samsung's latest generation of AMOLED panels for smartphones, which is actually the same display generation that the iPhone 11 Pro Max also uses. It's a 3040x1440 resolution panel, with a 498 PPI so it's very sharp. It supports HDR10+ and full DCI-P3 coverage, and it's honestly the most gorgeous smartphone display that I've ever seen.
Now displaymatte actually gave the crown to the iPhone 11 Pro's display, which does indeed get brighter outdoors in direct sunlight, when compared to the Note. And same goes for manual brightness you can bump the iPhone 11 Pro higher than you can with the Note. But they both go up to around 1200 nits when playing HDR content, so that's all good.
However, I can honestly tell you when seeing both in person, indoors at least, the Note 10+'s display does look better. The colours are punchier, and whilst the brightness is lower than on the iPhone it's not that noticeable indoors as it is outdoors. When you also add in the fact that you can watch videos on YouTube in higher than 1080p, which you cannot do on the iPhone, makes the Note 10+'s display for me at least, the best display on any smartphone for watching videos and reading content.
We've actually bought a professional display colour calibration tool and here are the results that we got out of the Note 10+'s display. On a white surface with a maxed out manual brightness, we got 349 nits, while on the exact same image on the iPhone 11 Pro Max, maxed out brightness again, we got 524 nits.
When it comes to the camera punch hole, I honestly forgot that it was even there after about 10 minutes or so of use, so honestly don't worry about it. I even like it more than on my S10+ since it's smaller and also centred and Samsung and the Community have made some amazing wallpapers just for Note 10!
CAMERA
Now, when it comes to the camera it's pretty good! It's definitely in the top 3, right after the iPhone 11 Pro's camera.
So it's got three lenses on the back; a regular module, a zoom module, and a wide angle module. As well as some extra features which I'll cover in the Special Features section of this video. I won't go into too much detail here as we've already done two insanely detailed camera comparisons between the Note 10+ and the Pixel 4, the iPhone 11 Pro Max and the OnePlus 7T Pro, the most recent of which I'll link right here.
And those include thirty individual test categories, each with multiple camera samples ranging from; macro Shots, to HDR front and back, stabilization in 4K, stabilisation with the wide angle, portrait mode, slow motion, timelapse, panorama, night mode, night mode with zoom and night mode with telephoto and many more. So if you do want to see how this camera performs, do check those videos out!
But long story short, it's got the second best video recording capabilities in the phone, right after the iPhone 11 Pro Max. So It cannot do 4K 60 with the wide angle lens or 4K 60 with the front, but other than that, this is an amazing camera.
The wide angle is even better than on the iPhone, mostly because it bumps the highlights, shadows, and the vibrancy even more and for me at least, the images were slightly more pleasing to the eye. Night mode shots were very good, not as good as on the Pixel 4 or iPhone 11 Pro but pretty close. It definitely has the best portrait mode when it comes to the background separation, thanks to the extra TOF sensors, which I'll cover more in just a bit. Where the Note 10+ excels is really just regular photos. HDR shots taken indoors and outdoors are just stunning, so if you care a lot about the camera the Note 10+ will not disappoint.
You can see an example of each of these below: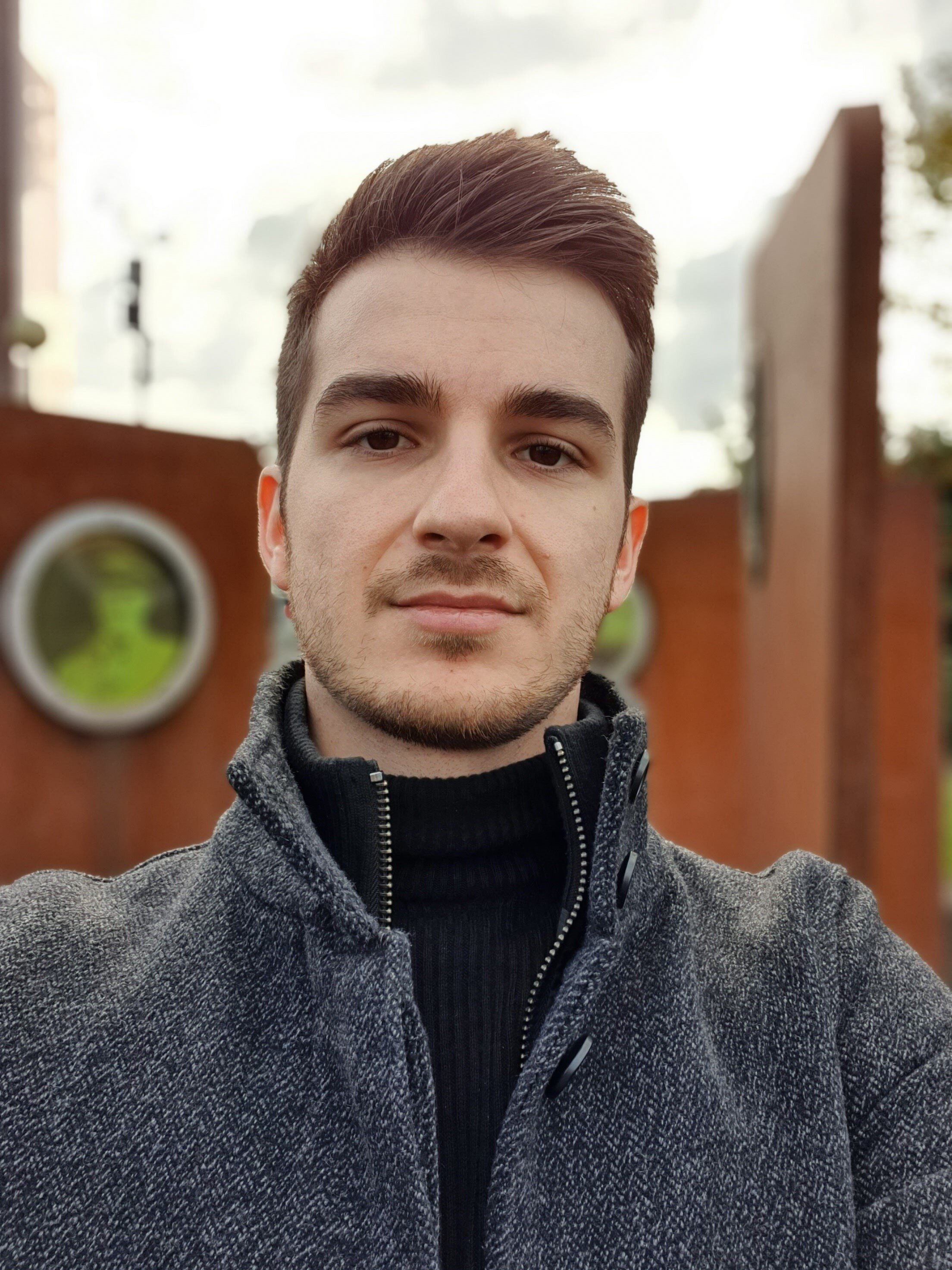 The only disappointment that I do have with this camera is that it's very similar to the S10. Aside from the zoom module which now has an f/2.1 aperture from the f/2.4, the main camera is the exact same camera as on the S10, which fun fact, was the exact same camera as on the S9, and the S8, and the S7. I mean yes, Samsung has released brand new image sensors for these phones and they have improved the image processing over the years, so the pictures have improved from each generation, but the sensor specs have remained exactly the same since the S7. We have the same 12MP resolution 1/2.55 inch sensor with 1.4 micron sized pixels, with dual pixel technology on the sensor for focusing.
However there are rumors that are suggesting that Samsung may release a new generation of cameras with the Galaxy S11. Therefore if you're holding off getting a new phone, and camera is your number one focus, the S11 will be a pretty big jump in camera quality from the Note and you should wait for that.
PERFORMANCE
Ok, so now, what about the performance? Well, it's pretty good for the most part.
We have pretty much the best specs you can have on an android phone today. We have the Exynos 9825, which is actually a brand new processor from the 9820 that we got with the Galaxy S10 just five months before. So this is now based on a new 7nm process now and in benchmarks at least, this is the processor that scores the highest, in an android phone at least.
Now, if you get the US variant of the Note 10, it will come with Snapdragon 855 and interestingly enough not the 855+ like it was rumoured to come with, and like what the OnePlus 7T & 7T Pro come with, which is a bit of a let down. But the 855+ is just an overclocked 855 anyways, so you're not really missing out on much.
We also get 256GB of storage as the baseline model and 12GB of RAM by default which is just nuts on a phone! RAM management on this has just been incredible. In a lot of cases, I opened an app that I had open a few days before and it was still there perfectly loaded in the background and perfectly usable!
So I'm very impressed with the RAM management and overall performance on the Note 10, however it's not perfect. I did have quite a few stutters and app crashes on my Note, definitely way more than I've had on my iPhone or Pixel, but the thing is that this phone comes with so many features, that a few crashes and slow downs here are there, are passable for me at least.
First off, Samsung's skin OneUI is just amazing! Design-wise, I like it the most out of any other Android Skins, even more than OnePlus's OxygenOS or the Pixel Launcher. The reason for this is mostly because it looks very clean and it also offers a lot of customisation. Aside from changing the icons, the text font, the wallpaper to an actual video, and even the always on display style, something that as far as I'm aware no other launcher can do, is having app folders inside of Apps Edge. This means that you can essentially have an iPhone style home-screen in the app drawer, while keeping your home-screen very very clean. And you also have this edge panel which allows you to easily access apps and tools, with a swipe from the right side of your screen. Some people might call this a gimmick but personally, I actually ended up using this feature a lot, keeping most of my delivery apps there, my alarm, and the apps that I use quite frequently that I just don't want to have on my home-screen. Samsung has also sped up their update cycle quite a bit. OneUI 2.0 is coming very soon, with Android 10 support, and the Beta is already out on the S10. This means that the S10 and the Note 10 will then be the world's third manufacturers to release Android 10, right after Google and OnePlus, which is pretty amazing to hear, especially when it comes to a Samsung phone.
But it's not just that, we also get a ton of special features that we don't really get on many other phones.
We do have an always on display which Apple still lacks on the iPhone, and this is also noticeably better than Google's always on display, since it does give you a ton of more customisation options.
We also have a microSD card slot for adding even 1TB of extra storage to this, for a total of 1.5TB which is just a complete overkill on a phone but hey, if you store a ton of games and have all of your movies locally, then the Note is the perfect phone for this.
The Note also comes with reverse wireless charging, which allows you to now only charge another phone from the back of it but also charge wireless accessories such as the Samsung Galaxy Buds, or even the AirPods, from the back of the Note 10. What's ironic is that you cannot do this if you have AirPods and the newest iPhone 11 Pro.
Speaking of wireless, one of the new features that the Note 10+ comes with is WiFi 802.11ax, also known as WiFi 6, which is pretty huge. WiFi 5 or 802.11 ac, which is the current standard that most devices use, launched back in 2014, so there's a 5 year technology leap in between the two. WiFi 6 gives you a theoretical speed of up to 9.6Gb/s or 1.2GB/s which is just incredible! But the best part about WiFi 6 is that if you have a lot of WiFi 6 enabled devices, and a WiFi 6 router as well, they will manage themselves much better than WiFi 5 could and pretty much get rid of any traffic congestion entirely.
Along with improved speaker quality, the water resistance is still here, with IP68 certification for up to a 1.5m submersion up to 30 min. I've taken multiple Samsung phones with me to the seaside and the pool and I've never had an issue with any of them breaking but if they do break from water damage, do keep in mind that this isn't covered under warranty.
Now aside from these features, there are three more that are unique to the Note and these three are the features that truly make the Note a one-of-a-kind phone.
The first one being of course the S-Pen. This is the built-in stylus that Samsung has in their Note line of smartphones, and this year it gets an accelerometer and gyroscope so that you can control some apps, such as the camera app, with gestures in the air, which is pretty cool. But honestly, I found myself not using the S-Pen after the first few days, mostly because of the app support. Don't get me wrong, it's not bad but if you want to use the S-Pen to its fullest you need to use Samsung Notes. The problem here is that it only works on Android, so no desktop or cloud app for your laptop or tablet, and it only works on Samsung devices. Which kinda turns the Note 10 into a physical notebook, where you only have your notes on that specific device. You can still use the S-Pen in OneNotes or Google Keep, but it's just not as fluid and the functionality is still far better with Samsung Notes. Also since I'm always much faster at taking notes with a keyboard than I am with a pen, I found myself avoiding to use the S-Pen unless I was editing photos. For me, this has been by far the best functionality of the S-Pen. If you use it in Lightroom and Photoshop Express for masking things, making a selection, or even just adjusting the highlights dial for example it is such an amazing thing to have right in your pocket!
The second big new features is that TOF (time-of-flight) sensor right next to the camera, which allows the Note to not only take some amazing portrait mode shots, like I mentioned before, of both people and objects, but you can also use it to 3D scan objects. This is a very cool thing to do but it doesn't really work that well, and same as the S-Pen, I only found myself using this once or twice and never used it again since.
But the third unique feature is pretty big, and that is DeX! When you connect your Note 10 to a monitor via USB C, it will actually boot into a desktop UI mode, and then you can connect a mouse and keyboard and literally use this similar to how you would use a Windows PC. You have full access to desktop apps such as Microsoft Office and Google Chrome so that's pretty amazing! So if you're the kind of person that mostly uses their smartphone and doesn't really need a full laptop or a desktop PC, then getting a Samsung phone with DeX is a pretty good option. All Samsung phones from the S8 onwards do support DeX, although the S8 and Note 8 do need a separate dock.
But the Note 10 can actually do an extra thing that previous Samsung phones couldn't. You can now connect it to your laptop as well, and open up the DeX UI on your laptop. Personally, I don't really get the point of you doing that since one, you do need a cable and two, the whole point of DeX is to turn your smartphone into a PC. But if you're already carrying a PC then what's the point? But if you do care about this feature, the S10 did get a recent update to support this as well!
So as you can see, the Note 10+ is packed with features! There's not a single smartphone on the market that has more features than this phone does, and while some of them are indeed gimmicks, like drawing with the S-Pen in AR, at least you do get a ton for what you're paying for!
Now Samsung has actually removed the headphones jack from the Note 10, making this their first major smartphone to lack the 3.5mm jack. For me this hasn't really been an issue at all, since I do use wireless headphones all the time, but I do see why some people might be outraged especially when Samsung didn't include a 3.5mm to USB-C adapter in the box, meaning you do have to buy it separately now.
BATTERY LIFE
So with all those special features in mind, the huge display on this thing, and the internals, how is the battery?
Well it is actually pretty great! The Note 10+ comes with a 4300mAh battery and it can easily last me through a full day of use, unless I'm travelling. When I'm travelling I'm always on my phone and I haven't found a phone yet that can last me a whole day in that case. But for my day to day use, the Note 10+ can even last me two days, so it's been pretty amazing for me.
We also have a much faster fast charging of up to 45 Watts! Yes, the Note 10+ has the fastest charge on any smartphone on the market right now! Now out of the box, we do not get that 45W charger, so you need to buy that separately from Samsung, but we do get a 25W fast charger which can charge the Note up to 50% is just about 30min which is pretty amazing. You can get a full charge in around an hour and twenty minutes or so. With that 45W charger you get a full charge in around forty five minutes or so from what I've seen.
VALUE
So in the end is the Note 10+ worth it?
Well, the Note 10+ costs £1000 or $1100 in the US, which is actually the exact same price than the iPhone 11 Pro Max starts at. However you get so much more with the Note, the 256GB compared to the 64GB of storage, as well as microSD card expansion. 12GB of RAM compared to 4GB. A larger display, and the ability to play 4K videos on YouTube compared to just 1080p. The S-Pen, reverse wireless charging and so much more, the Note 10 is the true Swiss army knife of smartphones, and I would recommend this to anyone who wants the ultimate experience in a smartphone!
Samsung does have the smaller Note 10 variant which I didn't really talk about since the true new Note this year is the Note 10+.